The bitcoin cash (BCH) price failed to break out in recent days. Cryptocurrency markets sold off on Tuesday as financial markets returned to risk-off sentiment in light of higher-than-expected US inflation numbers.
BCH has fallen 72% since the start of the year, and close to 15% in the past month.
What is bitcoin cash, and how does it differ from bitcoin (BTC) and bitcoin gold (BTG)? Is the dip an opportunity to buy into the cryptocurrency, or is there potential for the price to fall further?
In this article, we look at the effect of the latest bitcoin cash news on the price and the potential long-term outlook for the coin.
Bitcoin cash targets high transaction volumes
Bitcoin cash is a hard fork, or spinoff, from the Bitcoin blockchain that occurred on 1 August 2017. The split came as the Bitcoin community could not reach consensus on a proposal to increase the network's capacity to allow for more transactions. 
Anyone who held bitcoin at the time received bitcoin cash, which has a higher maximum block size. The protocol initially increased the block size from 1MB to 8MB. It now supports blocks of up to 32MB. The developers are researching the possibility of "massive future increases". 
The higher block size enables bitcoin cash to process far more transactions per second while keeping fees low – a solution to the payment delays and high fees that some bitcoin users have experienced.
Bitcoin cash has a different aim than bitcoin gold. Launched in October 2017, bitcoin gold focuses on restoring decentralised mining after it became dominated by large mining farms. BCH aims to be peer-to-peer electronic cash – simple and fast to use, with low fees for sending money globally. Low fees enable micro-transactions, like tipping content creators and rewarding app users small amounts of money.
There was a hard fork of bitcoin cash in November 2018 as disagreements continued in the community about the maximum block size for transactions, resulting in the creation of bitcoin SV (BSV). BSV's block size limit is unbounded and can scale in response to the market. 
Like BTC, the supply of BCH is capped at 21 million coins. There are currently 19.17 million coins in circulation, according to data from CoinMarketCap. The fixed supply is intended to limit inflation and make bitcoin cash a store of value. Bitcoin cash had a market capitalisation of around $2.28bn at the time of writing (15 September), ranking it the 29th largest cryptocurrency.
More than 2,800 merchants accept BCH for payment, according to data compiled by Cryptowerk.
On 14 September, decentralised finance (DeFi) platform AnyHedge launched decentralised leverage trading on the Bitcoin Cash blockchain, enabling users to leverage or hedge BCH against the US dollar (USD), ether (ETH), gold and BTC.
What is your sentiment on BCH/USD?
Vote to see Traders sentiment!
BCH falls on bearish crypto sentiment
The BCH coin price reached its all-time high during the December 2017 cryptocurrency rally, soaring to $4,355.62 from $1,381.81 at the start of the month. The coin was trading below $1,000 by February 2018, and following a spike above $1,600 in May 2018, remained below that level until the May 2021 crypto rally lifted the price to $1,635.15 on 12 May 2021.
BCH traded well below $1,000 during the subsequent September and November 2021 market rallies, ending the year at $430.64. The price dropped to $262.50 on 24 January. After rebounding to $389.41 on 31 March, it fell to $160.07 on 12 May amid the Terra Luna crash. 
Bearish sentiment weighed on the price, dragging it to $96.00 on 13 July. The price moved up to $163.60 on 29 July, but was trading down to $114.67 by the end of August. BCH hit $134.46 on 10 September, but dropped to $117.20 in the selloff on 13 September.
What do forecast sites predict for the direction of the bitcoin cash future price? Is there potential for the coin to return to its previous highs? 
Below, we've compiled a bitcoin cash price prediction overview.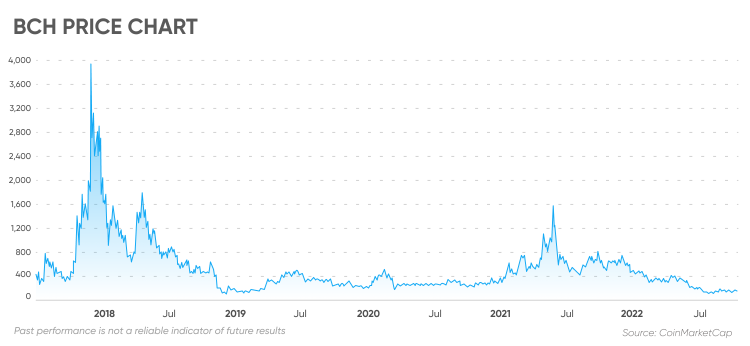 Bitcoin cash price prediction: What's next for the coin?
Short-term sentiment for BCH was bearish at the time of writing on 14 September, according to CoinCodex. There were 26 technical analysis indicators giving bearish signals, compared with two buy signals. CoinCodex's bitcoin cash price prediction estimated that the coin could fall to $98.07 by 19 September and move up to $113.79 by 15 October.
The bitcoin cash price prediction for 2022 from Wallet Investor indicated high volatility, with the price falling to $49.05 in October before soaring to $498.194 by the end of the year. The algorithm-based forecaster predicted that the price could then drop to $206.892 by the end of 2023 and to $3.309 by the end of 2025.
In contrast, the BCH coin price prediction from DigitalCoin was highly bullish, projecting that the price could climb from an average of $156.55 in 2022 to $271.36 in 2023 and $495.78 in 2025. DigitalCoin's bitcoin cash price prediction for 2030 estimated that the price could soar to $1,653.42 by the end of the decade, based on historical data.
The BCH crypto price prediction from Coin Price Forecast projected that bitcoin cash could rise from $168 at the end of 2022 to $202 in 2023, $293 in 2025 and $573 in 2030.
The BCH price prediction from Price Prediction was the most bullish for the long term. The forecast indicated that the coin could climb from an average of $161.75 in 2022 to $237.31 in 2023. The website's bitcoin cash price prediction for 2025 showed the price rising to $531, reaching an average of $3,372.22 in 2030.
The BCH price prediction from Gov Capital was bearish about the future of the coin, expecting the price to hit zero by December 2022.
When looking at any bitcoin cash price prediction, it's important to keep in mind that cryptocurrency markets remain extremely volatile, making it difficult to accurately predict what a coin's price will be in a few hours, and even harder to give long-term estimates. As such, analysts and online forecasting sites can get their predictions wrong.
We recommend that you always do your own research, and consider the latest market trends, news, technical and fundamental analysis, and expert opinion before making any investment decisions. Keep in mind that past performance is no guarantee of future returns. And never invest money that you cannot afford to lose.
FAQs
Is bitcoin cash a good investment?

Cryptocurrencies are highly volatile assets, making them riskier than other potential investments. Whether BCH is a good investment for your portfolio depends on your risk tolerance and personal financial position, as well as your investing goals. Evaluate the level of risk you are prepared to accept before investing. Keep in mind that past performance is no guarantee of future returns. And never invest money that you cannot afford to lose.
Will bitcoin cash go up or down?

The direction of the BCH price could depend on interest in the coin from cryptocurrency investors as well as sentiment across the broader markets, among other factors.
Should I invest in bitcoin cash?

How you trade BCH is a personal decision depending on your risk tolerance and investing strategy. You should do your own research to take an informed view of the market.

Keep in mind that past performance is no guarantee of future returns. And never invest what you cannot afford to lose.
Further reading:


This news is republished from another source.